Introduction of " The Bat" Series
"He who rests....rusts !"
Years ago I designed a Model land Yacht using a blow molded hull. Not long ago I decided to pick up the idea again.
The "Bat" was born.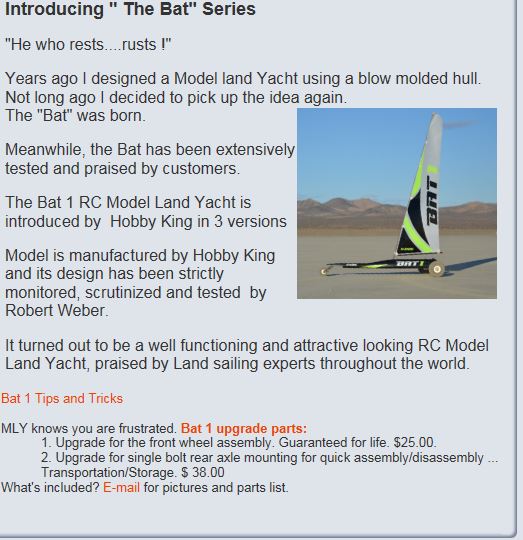 Meanwhile, the Bat has been extensively tested and praised by customers.
Sadly the Bat 1, produced by Hobby King is being phased out. H.K. also declined merging into the Bat 2 line. Knowing this I purchased a major amount of hulls to be able to continue to offer both Bat 1 and Bat 2 models.
Not having had any control of the materials used by Hobby King Bat 1, MLY Bat Models include updates and upgrades.
Of course MLY can not match Hobby Kings production prices, but Model Land Yachts will come close to the original introduction list price
As with the Bat 2 the MLY Bat 1 can be ordered in the color of your choice at no extra cost.
MLY Bat 1 version 2 (PNP) $ 125.00 Available worldwide
MLY Bat 1 Version 3 (RTR) $ 165.00 Continental US only